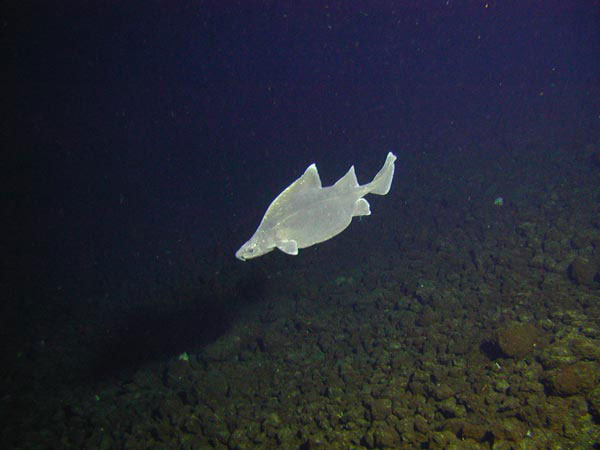 A rare Prickly shark ( Echinorhinus cookei) was recently "found" and displayed at the Monterey Bay Aquarium, quite the coup for the eager grad student type who "found" the shark.
The shark was  "collected" in an area where the Monterey Bay Aquarium Supported research, by the unnamed graduate student (sorry, chum), who was documenting  daily migrations of prickly sharks from the deep waters of the canyon to the shallows of the canyon head where the specimen in question was… "collected" and quickly put on display at the aquarium.  
But as of the writing of this post, the Prickly predator has been returned to the wild, because after a mere 15 hours in captivity, staff scientists at the Monterey Bay aquarium noticed that the shark "appeared too bouyant to swim easily."
The scientists tagged the prickly (and, apparently, gassy) shark, normally seen only in very deep waters,  before releasing him in waters about 250 ft deep.  They watched him swim off, clearly headed back for the deeper waters of the pacific rim.
Reports have yet to be confirmed, but some witnesses swear that they saw the shark flipping those scientists the bird as he swam out into deeper waters.*  
*please note: the author of BV is in favor of any and all humane efforts to learn more about the life in our oceans, and understands that the scientists' intentions were pure. Nevertheless, she empathizes with the shark, who was kidnapped, stuck in a  tank, made a mini-media spectacle, and sent home all in the span of a day. As the title suggests, after this kind of Wednesday, you'd probably be prickly, too.